Wythe, George
(redirected from George Wythe)
Also found in:
Encyclopedia
,
Wikipedia
.
Wythe, George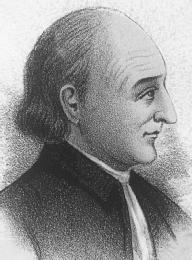 "There is no country in the world … such as the United States itself—in which capital, management, labor and resources may be joined together for more production, to the mutual advantage of all concerned."
—George Wythe
George Wythe was an attorney, judge, signer of the Declaration of Independence, and first professor of law in the United States. A mentor to Thomas Jefferson, Wythe educated a number of men who went on to achieve prominence in law and politics. Wythe was born in 1726 in Elizabeth City, Virginia. After his admission to the Virginia bar in 1746, Wythe settled in Williamsburg, then the seat of government in the colony. He became active in politics, serving as a member of the House of Burgesses from 1754 to 1755 and from 1758 to 1768. He later served as clerk of the house from 1769 to 1775. An ardent supporter of independence, Wythe drafted a fiery motion opposing the Stamp Act of 1764. However, the house was compelled to rewrite the motion and adopt a softer tone. Wythe attended the Continental Congress in 1775 and 1776 and signed the Declaration of Independence.
During these years of politics and revolution, Wythe maintained a successful law practice. Many students sought his counsel, including Jefferson, who studied law with Wythe in the 1760s and viewed him as his mentor. As Jefferson rose in stature and power, Wythe became part of his circle. In 1776 Wythe, Jefferson, George Mason, and Edmund Pendleton revised the Virginia Code.
Jefferson used his influence to have Wythe appointed the first law professor in the United States. Wythe taught at the College of William and Mary from 1779 to 1789. One of his first students was John Marshall, later chief justice of the United States. While teaching, Wythe also pursued a judicial career and presided as a judge in the Virginia Chancery Court from 1778 to 1788. In 1789 he was appointed chancellor of Virginia, which required him to move to Richmond. Wythe established a private law school there and had as one of his pupils the future U.S. senator from Kentucky, Henry Clay. Wythe resigned as chancellor in 1792. He published a selection of his court decisions in Decisions of Cases in Virginia by the High Court of Chancery in 1795.
Wythe died on June 8, 1806, in Richmond, Virginia, of poisoning. His grandnephew and heir, George Wythe Sweeney, was acquitted of the murder. At trial the only witness was an African American, who was disqualified from testifying under the laws of Virginia.
Further readings
Brown, Imogene E. 1981. American Aristides: A Biography of George Wythe. Rutherford, N.J.: Fairleigh Dickinson Univ. Press.
Callahan, Dennis J. 2003. "America's First Law Professor Played Unsung Role in Marbury." Student Lawyer 31 (February).
Carrington, Paul D. 1997. "A Tale of Two Lawyers." Northwestern University Law Review 91 (winter).
Kirtland, Robert Bevier. 1986. George Wythe: Lawyer, Revolutionary, Judge. New York: Garland.
West's Encyclopedia of American Law, edition 2. Copyright 2008 The Gale Group, Inc. All rights reserved.