Wheaton, Henry
(redirected from Henry Wheaton)
Also found in:
Encyclopedia
,
Wikipedia
.
Wheaton, Henry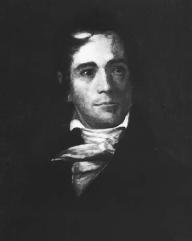 Henry Wheaton served as the reporter of decisions for the U.S. Supreme Court and later became a diplomat and a scholar of International Law. Wheaton is recognized for establishing a high level of accuracy, timeliness, and scholarship for Supreme Court reporters. A dispute with his successor, however, lead to a landmark case that had a profound effect on U.S. Copyright law and public information.
Wheaton was born on November 27, 1785, in Providence, Rhode Island. He graduated from Rhode Island College (today known as Brown University) and then studied law in France in 1802. Upon his return that year he established a law practice in Providence.
Wheaton became a friend and colleague of U.S. Supreme Court Justice Joseph Story, who shared Wheaton's passion for legal scholarship. In 1816 Story persuaded Wheaton to move to Washington, D.C., and take the position of reporter of decisions for the Court. Wheaton agreed, becoming the first paid reporter recognized by law.
Wheaton attended court sessions, accurately reported oral arguments and the written decisions of the Court, collected the decisions, and then published them within one year. Wheaton became the first reporter to supply annotations with the Court's decisions, sometimes anonymously assisted by Story. In 1820 Wheaton consolidated prior Court decisions into A Digest of the Decisions of the Supreme Court of the United States, 1789 to 1820.
In 1827 Wheaton left the reporter position and entered the U.S. foreign service. He served as chargé d'affaires (a diplomatic representative below ambassador) in Denmark from 1827 to 1835. He became adept at treaty negotiations and was made chargé d'affaires to the Prussian court in 1835. In 1837 he was appointed minister plenipotentiary and served in that position until 1846.
Wheaton was a noted writer and legal scholar. He published A History of the Northmen in 1831, in which he argued that Scandinavian explorers had landed on the North American continent several centuries before the expedition of christopher columbus. Wheaton also published Elements of International Law (1836) and A History of the Law of Nations (1845).
Wheaton became embroiled in a legal dispute with Richard Peters Jr., his successor as Supreme Court reporter, over Peters's use of Wheaton's published case decisions. Wheaton lost the right to control the copyright of decisions that he had reported, in the process giving the Supreme Court the opportunity to clarify the boundaries between Common Law and statutory copyright.
Wheaton died on March 11, 1848, in Dorchester, Massachusetts.
Further readings
Baker, Elizabeth Feaster. 1937. Henry Wheaton, 1785–1848. Reprint, New York: Da Capo Press, 1971.
Cross-references
West's Encyclopedia of American Law, edition 2. Copyright 2008 The Gale Group, Inc. All rights reserved.