Carter, Thomas Henry
(redirected from Thomas Henry Carter)
Also found in:
Wikipedia
.
Carter, Thomas Henry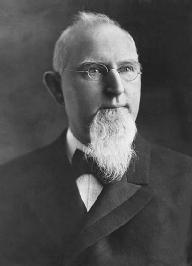 Thomas Henry Carter, born October 30, 1854, in Scioto County, Ohio, concentrated his career efforts in Montana. He pursued legal studies and relocated to Helena in 1882 where he established a successful law practice.
In 1889 Montana was admitted as a state to the United States, and Carter became its first representative to participate in Congress. In this capacity he favored less stringent laws concerning homesteaders. In 1890 he became commissioner of the general land office and was able to put his views into effect, to the advantage of the Western settlers. In 1892 he was the presiding officer of the Republican National Committee and directed the unsuccessful reelection campaign of President Benjamin Harrison.
Carter entered a new phase of his career in 1895 when he became a U.S. senator. He represented Montana until 1901 and again from 1905 to 1911. During his tenure he supported various policies, including bimetallism—the use of both gold and silver as the foundation of the currency system; civil service legislation; a protective tariff on raw materials—such as wool, lumber, and lead; and a postal savings system. He also worked extensively in the field of conservation and was instrumental in the establishment of Glacier National Park.
"Our constituents are not children. you are dealing with a good, husky, lusty, vigorous body of people, who know something about their own business and are determined to have their rights."
—Thomas Carter
Carter died September 17, 1911, in Helena.
West's Encyclopedia of American Law, edition 2. Copyright 2008 The Gale Group, Inc. All rights reserved.