Wallace, John William
Wallace, John William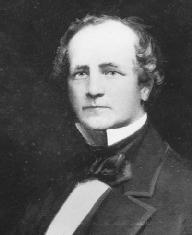 John William Wallace served as reporter of decisions for the U.S. Supreme Court from 1863 to 1875. Wallace is noted for being the last reporter to privately publish decisions of the Court and for having his name on the spine of each volume. For example, the citation 87 U.S. (20 Wall.) 590 indicates that the decision is to be found on page 590 of volume 87 of United States Reports (the cumulative number of volumes, regardless of the reporter), which is volume 20 of those reports published by Wallace.
Wallace was born on February 17, 1815, in Philadelphia, Pennsylvania. The son of a distinguished Philadelphia lawyer, Wallace graduated from the University of Pennsylvania in 1833. He studied law in his father's office but decided to devote himself to being a law librarian. In 1841 Wallace became the librarian of the Law Association of Philadelphia. He assumed his first reporting task in 1849, when he published the first of three volumes of the opinions of the U.S. Court of Appeals for the Third Circuit.
During the 1840s and early 1850s Wallace concentrated on the scholarly examination of English law reports and reporters. In 1844 he published The Reporters, Chronologically Arranged: with Occasional Remarks upon their Reporting Merits. The work was warmly received for its scholarship and commentary and was republished frequently in the nineteenth century. Wallace also provided notes on U.S. cases included in a series of volumes known as the British Crown Cases Reserved (1839–1853).
"I waited in vain to hear the commercial law of my own, free, great, commercial country … Because no man can say that such a system exists."
—John W. Wallace
In 1863 Wallace became the seventh reporter of decisions for the Supreme Court, replacing jeremiah s. black. Between 1863 and 1875 Wallace published twenty-three volumes of reports, which form volumes 68–90 of United States Reports. His volumes were praised for their accuracy and quality of editing.
Wallace resigned in 1875 after Congress appropriated $25,000 to be used for publishing Court decisions. After leaving his position, Wallace wrote many scholarly articles and became president of the Historical Society of Pennsylvania.
Wallace died on January 12, 1884, in Philadelphia.
West's Encyclopedia of American Law, edition 2. Copyright 2008 The Gale Group, Inc. All rights reserved.